COMPLETE PROCESS
- ONE SUPPLIER:
What does "complete process – one supplier" really mean?
It literally means that ACG Kinna Automatic, as sole supplier can offer you a complete customized automation for the whole production chain, from the opening and weighing of the fibre to the filling of the product as well as the sewing and packing process. Imagine one partner, one installation and one freight. All your needs are covered.
It´s easy to understand all the benefits you gain when using one experienced business partner as responsible project leader – compared to combine several different suppliers where you must act project leader yourself. We think your valuable time can be spent on better things.
We learned that by being able to supply our global customer a complete turnkey solution as one sole supplier, we ACG Kinna Automatic would stand out in the competition. A fact we know is highly appreciated by customers seeking solutions to automate their production with a quick ROI. Therefore, the idea of ACG Kinna acting as one sole supplier of the whole production chain, the concept complete process – one supplier was born.
An important step to achieve our new concept was to acquire the Finnish brand NOWO, known for its experience and manufacturing of machines for the initial process of fibre opening scaling and filling.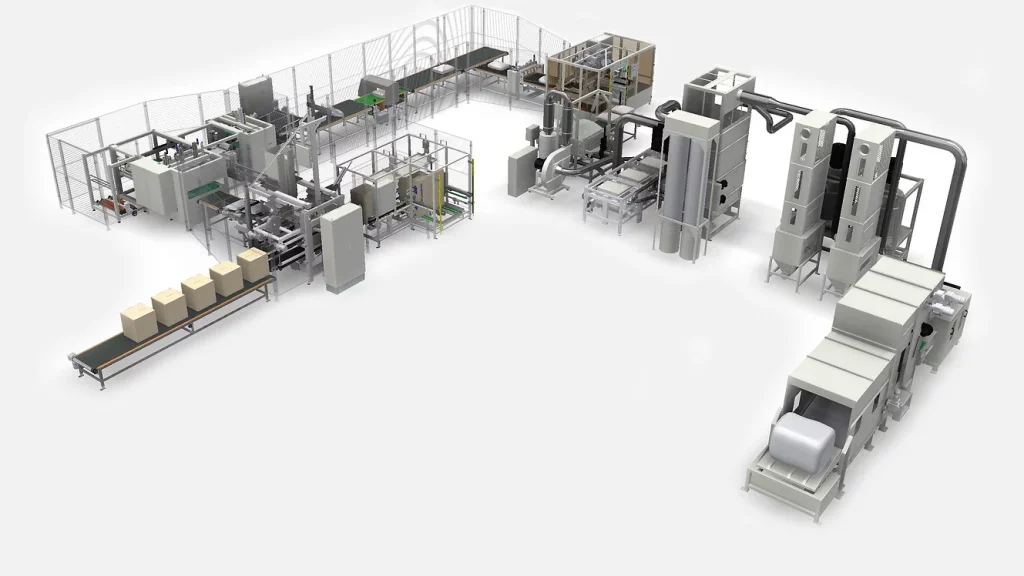 Showing example of a complete pillowline with blowfill from our Complete Process – One Supplier concept. More information can be found under product category
Textile Machines